Want to know how I went from making less than $1000 my first year as an affiliate marketer (and that was with 1000 hours of work) to making over $100,000 in my next year as an affiliate marketer?
I did it by changing the products I was promoting.
To help you skip that unsuccessful first year as a newbie, I wanted to share with you not only the best affiliate programs for beginners, but also my formula for choosing them.
In a hurry? You can click the links below to jump to a section…
What to Look for in an Affiliate Program as a Beginner>>
My Favorite Affiliate Programs for Beginners>>
ClickFunnels>>
Legendary Marketer>>
Clickbank>>
Bluehost>>
Wix>>
Affiliate Marketing Dude>>
TripAdvisor>>
Fiverr>>
ShareASale>>
How to Maximize Your Results>>
What to Look for in an Affiliate Program as a Beginner
Too many articles about affiliate programs for beginners suggest programs like Amazon Associates. In a bit, I'll tell you why that is definitely not the way to go.
eBut first, I want to share an important tip with you:
If you're trying to promote, 10, 20, 30 affiliate programs, you're going to make money with none of them. But if you pick one, two, or maybe three affiliate programs and you go all in on those, things are gonna start happening.
That being said, those 1-3 affiliate programs you choose to promote need to be the right ones or you won't make any money either.
So, here are the four things I look for when I am evaluating an affiliate program.
Multiple Products
The best affiliate programs for beginners (or for anybody for that matter) are the ones that offer a wide range of product price points.
They have products that range from a couple bucks to expensive products that are hundreds or even thousands of dollars.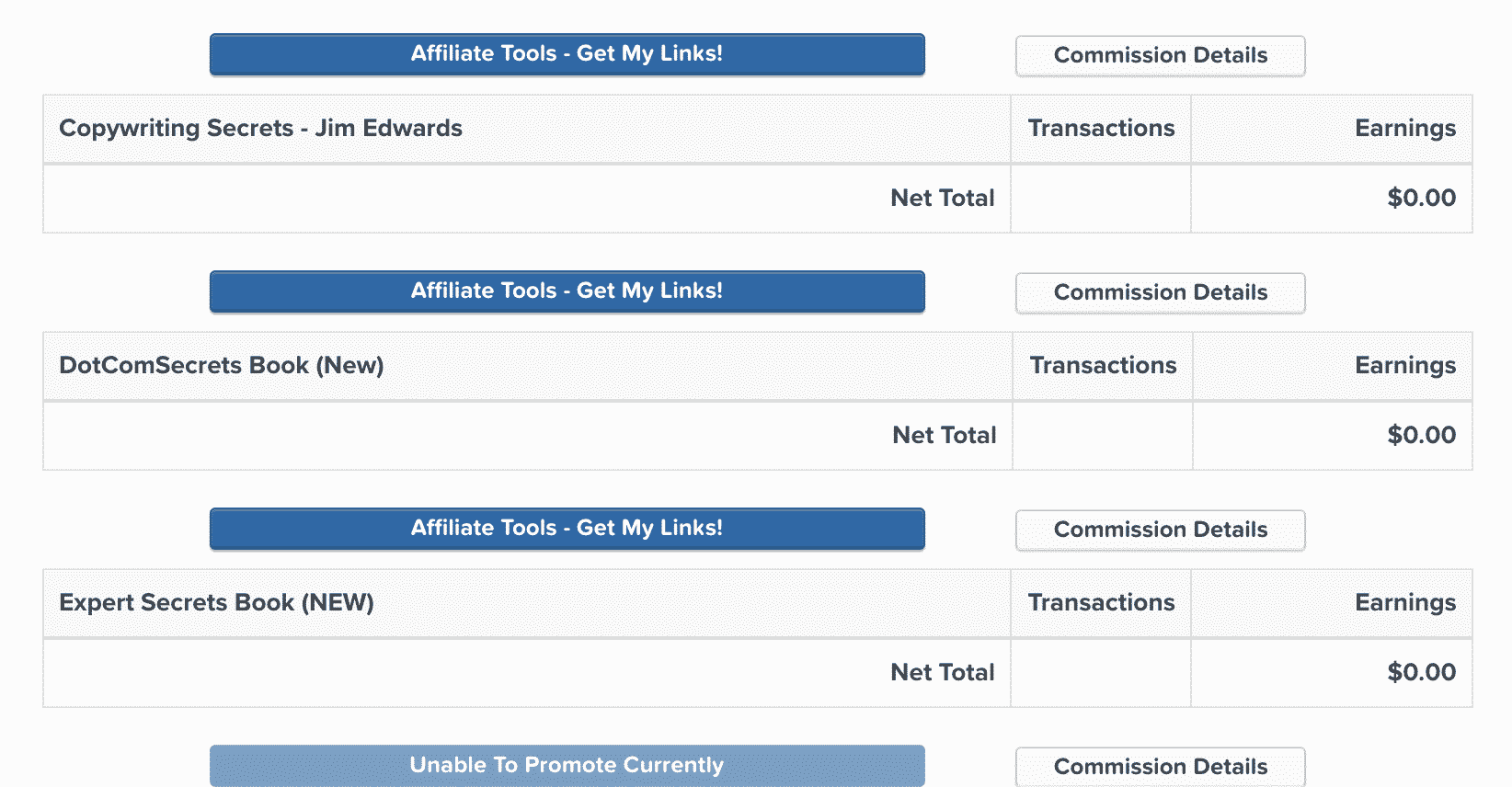 The reason this is important is because most of these companies let you promote the front end products (the $0, $1, $2, $3, $5, $10 products) and then you still get commissions when the people you refer buy the expensive products later on.
Let's say you promote a $1 product to your audience and 2 weeks later the company you promoted sells a $1000 course to that same person you pushed over to them.
You can still make $400-$500 off of that sale even though all you did was promote a $1 product.
The best case scenario for any affiliate marketer is to be able to promote really cheap (or free) stuff to their audience and then let the higher-end product conversions happen as a result of the company's proven marketing funnel.
High Commissions
This might sound obvious, but I think a lot of new affiliate marketers don't quite know what a high percentage commission is.
I'm going to tell you right now that the Amazon affiliate program does not offer high percentages.
In fact, any affiliate program that promotes a physical product typically isn't going to offer high percentage commissions because they've got so many more expenses to deal with (shipping, storing, manufacturing, etc.).
That's why you want to look at digital if you can, and fortunately, there are digital products in just about every niche.
For me, I look for products that offer at least 25% commissions. I preferably look for 30% or 40%, and the dream is 50%. Believe it or not, there are tons of these products out there.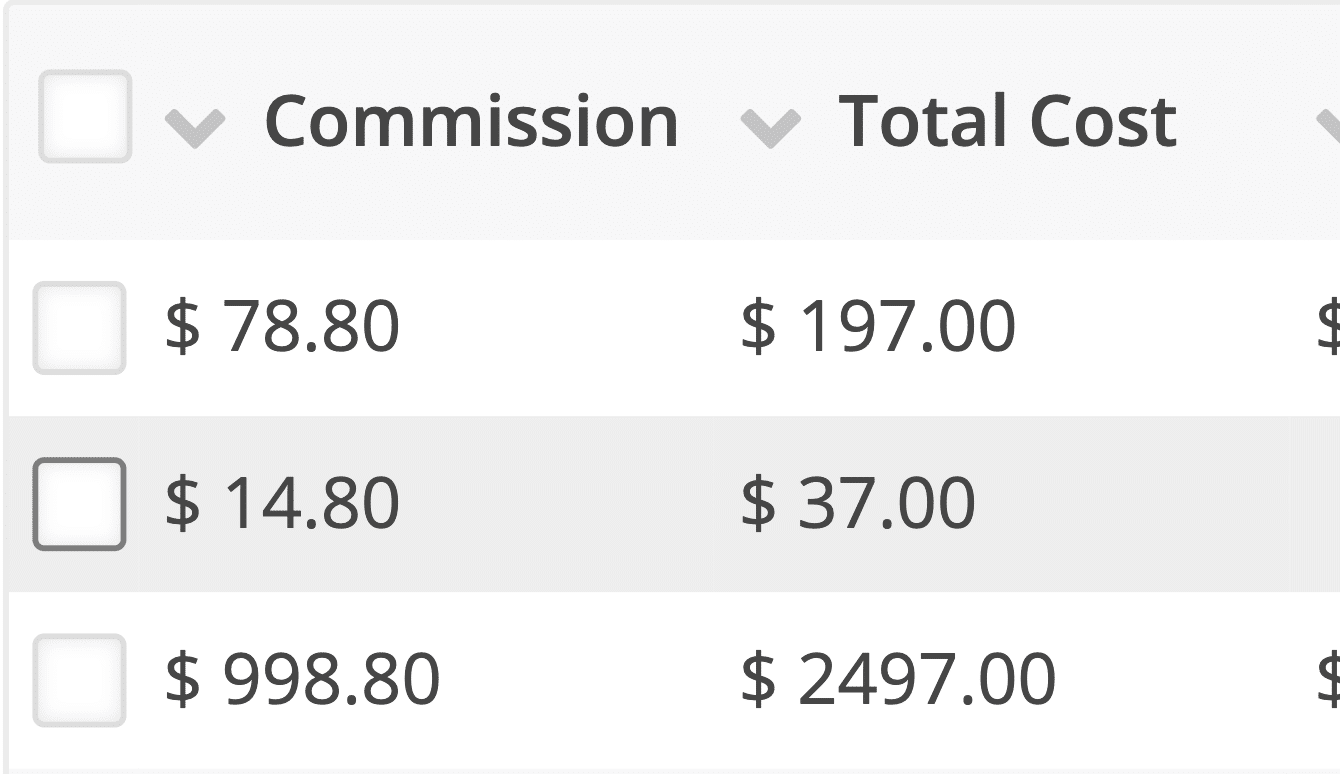 When you promote high ticket affiliate programs that offer these kinds of commissions, you can promote a lot less.
Even better when you can find affiliate programs that offer recurring commissions.
Take Amazon, for example. If you're making 6% and you're promoting a lot of $100 products, you have to sell a lot more products than you would for something that offers 30% or 40% of $100.
You'll get six times as much commission off of each sale, so you can sell a lot less and make the same amount of money.
Proven Ability to Close
This one is probably the number one thing I look for when evaluating the best affiliate programs for beginners.
Look for companies that have been around for a while, have a good team, and that have proven that they can close on the people you send their way.
If you're going to spend time pushing their product, you want to know that they know what they're doing and that they're doing everything in their power to sell those customers that you refer to them.
Most of these companies will be using the following marketing strategies to close sales:
Facebook retargeting
Email follow up sequences
A good funnel with multiple products to maximize your earnings

Before you start putting a lot of time into promoting a company's product, you want to know that they have those things in place and that they are effective.
Good Dashboard & Tracking
The last thing I look for when I'm looking for affiliate marketing programs for beginners is broken into two parts:
A nice, clean affiliate dashboard
Good tracking
Most companies will have these things in place for their affiliates, but it isn't uncommon to login to a terrible dashboard.
To me, that shows that they just don't care about their affiliates, which is a bad sign across the board.
You want a nice clean dashboard that gives you access to lots of data so that you can see what's working as you're promoting.
You also want to know that they've been around for a while and can prove that their tracking links work.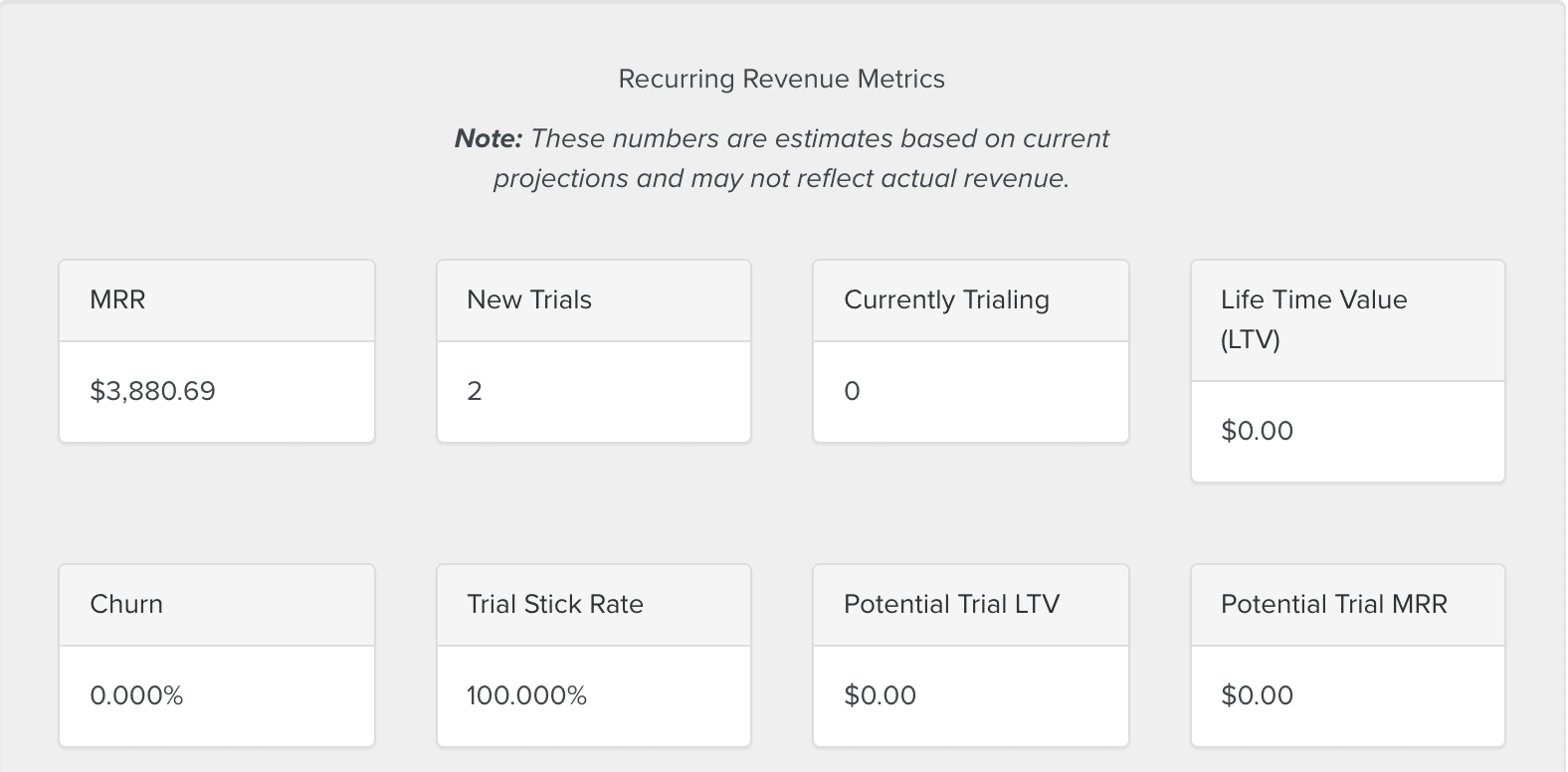 My Favorite Affiliate Programs for Beginners
Now that you know how to choose the best affiliate programs for beginners and beyond, here are my top 10 affiliate programs to get you started…
ClickFunnels
You've all heard of this one, especially from me. It's probably the most famous affiliate program out there right now because it is so obvious they love their affiliates.
They have an amazing team, tons of proven funnels, and lots of incentives above and beyond the commissions you can make.
Clickfunnels is a software and the cool thing about them is that they have so many products.
They have free products, $1 products, $40 products, $100 products, $297 products, $997 products, and $3000 products.
They've got it all and you can make commissions on it all just by sending someone to one single low-end or free product. That's a huge win as an affiliate.
They also pay 40%, which means you can sell a $1000 course and make $400. If you sell 10 of those a month, you're making a full time income in most places.
<<Sign Up for the ClickFunnels Affiliate Program Here>>
Legendary Marketer
This one is less well-known, and I honestly kind of frowned at this one originally, but as I've looked at it more, I've actually come to really like it.
Legendary Marketer sells mostly trainings on how to be an affiliate marketer and how to succeed online.
They have a wide range of products, and the thing I love about them is they have really high quality, low ticket products that are easy to promote.
For example, they have a $1.99 book that's really well-written by a very well-known marketer, and they have a free 15-day Build Your Business Challenge.
But what's really awesome is that they also have products that range as high as $5000 or $6000, and they have a whole sales team that gets on the phone and sells those high-end products.
You can focus on promoting the free and low end products and let their sales team upsell your audience, and you'll still earn off of anything your referrals purchase.
They also give really high commissions to their affiliates (40%-60%)!
I haven't promoted them in a while, but you can see that I've made about $5200 off of them and all I did was promote a totally free offer. I never once promoted anything that costs money.
So how cool is that that I can tell my audience, "Hey, here's an awesome free thing you can get," and then I can pull out and let these experienced salespeople do the selling for me.
<<Sign Up for the Legendary Marketer Affiliate Program Here>>
Clickbank
This next one is a little different. A lot of you have heard of it and many people ask me what my thoughts are on ClickBank.
It's probably one of the most suggested affiliate programs for beginners, and I have to agree.
Clickbank is in this trio of what I call affiliate brokers. There's Clickbank, JVzoo, and Warrior Plus.
Quite frankly, most of the products you'll find on these platforms are low quality products that are 100% focused on money and 0% focused on actually helping their customers.
That being said, you can find good products that are hosted on these platforms, and I have personally found ClickBank to be the most picky and the most high quality of the three.
I don't do a lot of ClickBank offers sheerly because of what I just told you, but as a new affiliate, I honestly believe there is a lot of potential with it because of how easy it is to use.
They've got an easy dashboard with tons of data that you can look at, and they have access to hundreds of products in virtually every niche out there.
Within 10 seconds, you can have an affiliate link and you can be out there promoting a product from Clickbank. That's what makes them one of the best affiliate programs for beginners.
You can look here and see that some products offer really high commissions. If you can get someone moving through this funnel, the average affiliate makes $589.
You can also see that there is rebilling, meaning they continue to sell down the road and you can continue to make money off of those refills as well.
<<Sign Up for Clickbank Here>>
Bluehost
The reason I like this one is a little different than the other affiliate marketing programs for beginners that I am suggesting.
I like it because every business needs a website, and Bluehost provides hosting for websites. It's a wide-application product.
And, they are a very beginner-friendly company. There are better hosts out there, but from my experience, Bluehost is the most beginner-friendly and budget-friendly host you can get.
What I like about them too is that the commissions they pay out are outrageous and simple. There are different tiers of commissions depending on how much you are selling.
For me, it's $85. Every time I send someone to Bluehost, that person pays Bluehost like $45-$50 at the lowest-end package and Bluehost pays me $85. That's an incredible payout!
Even though Bluehost doesn't have a ton of different products that they sell, I know that every single person in my audience has a need for hosting, especially new affiliates, new businesses, and new online marketers.
You're likely to find the same in your niche.
<<Sign Up for the Bluehost Affiliate Program Here>>
Wix
I'll be honest, I've never promoted Wix, but I really love their affiliate program and I kind of wish I had promoted them.
For those of you who are brand new and are wondering what to promote, if I were to start over, I would consider Wix.
Wix offers an all-in-one website package. They host your site and help you build your website. It's a very simple way to get a website up and running.
You can go the Bluehost and WordPress route, or you can promote Wix and make it really easy for your audience.
I love their commission plan. It's simple and lucrative. Affiliates earn $100 each time a person signs up with Wix.
The other thing I really like about Wix is that if you look at the competition in the search results, it's actually a lot easier to rank for Wix.
If you want to promote via Google or YouTube, it's not crazy hard to promote Wix, which I'm surprised about, especially since they pay out $100 commissions over and over and over again.
Seems like an amazing opportunity to me!
I also know that Wix has spent millions and millions of dollars on advertisements, which tells me they've got their sales system tested out 100% of the way.
They convert as many people as possible when you send leads their way.
<<Sign Up for the Wix Affiliate Program Here>>
Affiliate Marketing Dude
This is one I'm pretty sure you haven't heard of. It's a guy named Marcus and he runs a website called the Affiliate Marketing Dude.
Somehow Marcus has managed to create some of the world's ugliest websites that convert better than virtually anything I've ever seen.
Currently, he offers three different programs in three different price points. He teaches people how to find really high-end niches and then sell affiliate products to them.
He's got a mentoring monthly product and he's got a $297 product and a $1277 product.
You get 50% commissions on these thousand dollar products and he's very good at converting them.
They're good products, and his landing pages are terrible-looking, but nevertheless, they are high-converting landing pages.
Marcus is someone I've promoted 3 or 4 different times, and every time, I end up with really good results. I don't know why.
His web pages honestly kind of scare me, but they must appeal to other people.
As you can see, I've made about $9000 promoting his products in the last couple years.
I don't love his affiliate dashboard, but I've never had any issues with link tracking, which is the number one issue to avoid.
I've always had my commissions come through, and to me, that's way more important than having a dashboard that looks good.
He sells so well because he's a really personable down-to-earth guy. If you have an audience, he'll do a webinar with your audience and he converts typically 5-10% of the people that watch his webinars.
<<Sign Up for the Affiliate Marketing Dude's Affiliate Program Here>>
TripAdvisor
If you're in the travel niche, or anything that is related, TripAdvisor is definitely one of the best affiliate programs for beginners to promote.
They offer 50% commissions, and once you start referring more people, your commission will get raised to 80%!
TripAdvisor claims to be the "world's largest and most trusted travel community."
They have over 500,000 city and hotel pages to browse through, and you can promote them through deep linking, which means you can promote exactly the hotel, flight, attraction, restaurant, etc. that you want.
TripAdvisor doesn't actually sell anything. They link out to other sites that sell flights, travel deals, hotel stays, etc.
As an affiliate, you earn 50%-80% of the income that TripAdvisor makes each time someone clicks one of their partners' links.
It's pay per click instead of pay per acquisition, which means nothing has to be sold for you to earn.
<<Sign Up to be a Tripadvisor Affiliate Here>>
Fiverr
Fiverr is another great affiliate program for beginners.
They offer a wide range of highly affordable services, such as logo design, wordpress customization, voice overs, social media marketing, video development, copywriting, animation, programming, graphic design, and they even offer online courses.
The commissions on Fiverr are different depending on the product or service you choose to promote.
And what's nice is you can choose the commission plan that works for you:
Option 1 – $15-$50 per sale depending on the service purchased by a first-time buyer
Option 2 – $10 per first time sale + 10% revenue share for 12 months
You can also earn $150 commissions on all Fiverr Pro services, 30% on each course, and 30% on each AND.CO Pro plan. You can learn more about the Fiverr commission plan here.
Another nice thing about Fiverr is that they are a very professional company and they offer a lot of affiliate support, tutorials, and creative assets.
You'll even have your own dedicated affiliate manager. Plus, the dashboard is highly intuitive and useful.
<<Sign Up to be a Fiverr Affiliate Here>>
ShareASale
ShareASale is one of the most trusted affiliate networks, and it's one of the best affiliate marketing programs for beginners because signing up is quick and easy.
Many other affiliate networks like CJ Affiliate require an established website with a lot of visitors.
With ShareASale, though, you can be signed up and promoting within minutes.
Because it's an affiliate network, you can find many different affiliate programs to promote within virtually any niche.
They have almost 5000 different merchant affiliate programs as well as a nice mixture of big names and less-known companies.
ShareASale's tracking is all in real-time, so you'll be able to see clicks and sales as they happen.
You can also use their Clickstream feature to see the steps that each user takes to get to your affiliate link and to a purchase. This can bring beginners a lot of valuable insight as they are building their business.
They also provide awesome affiliate support that is reachable not only by email but also phone. They have a useful welcome kit and training webinars that will help you get off and running.
<<Sign Up to be a ShareASale Affiliate Here>>
After You Have Your Offers, Here's How to Maximize Your Results
Once you've chosen the right programs, here are my best tips for making money with affiliate programs for beginners…
Go Big With Strategy
I already mentioned that if you want to make real money as an affiliate marketer, you need to choose the affiliate marketing programs for beginners that offer big commissions.
But, you also want to think big in how you present your affiliate programs to your audience.
If you think small, you're going to get small results.
By strategizing, you can turn what would otherwise be a $200 earning into one that could earn $25,000. Trust me, it's worth the extra effort.
Check out these four $25K Affiliate Marketing Examples to learn how.
Set a Reachable but Challenging Goal
If going big is too overwhelming at this point, set a goal to earn $100 a day.
That's more swallowable but very doable. Check out this article to guide you: How to Make $100 a Day With Affiliate Marketing: A Step-by-Step Guide.
Follow Sound Advice
The best way to earn money fast from affiliate marketing even as a beginner is to follow the advice of those who have been there, done that.
That way, you get to learn from other people's mistakes without making those mistakes yourself.
Here's a great place to start: How to Get Started With Affiliate Marketing: A Beginner's Guide.
Your Next Step
While we have tons of valuable content about affiliate marketing here are Buildapreneur, the best place to start is with our free affiliate marketing course.
This is not one of those generic videos on affiliate marketing that teach you nothing but sell you something at the end anyway.
Instead, I take you inside my affiliate marketing business and show you how I get amazing results. Sign up here or click the image below.
The post Best Affiliate Programs for Beginners: Make Money Fast! appeared first on Buildapreneur.
Share this with friends who will find it valuable: